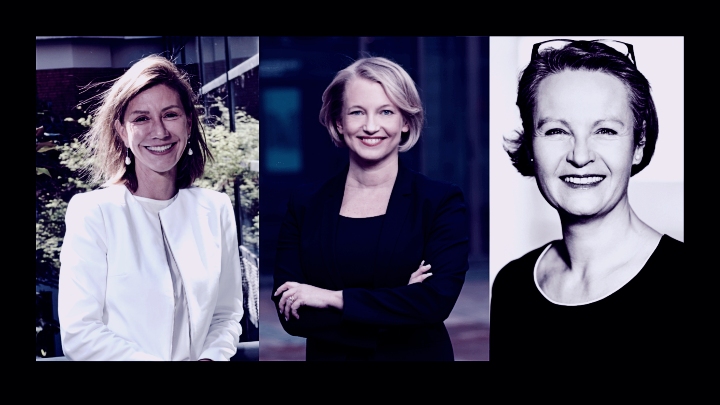 From left to right: Pascale Lagesse, Maria-Pio Hope y Lise Lotte Hjerrild / courtesy
In recent years, international companies have requested law firms to provide statistics on women's inclusion and diversity recruitment policies. To commemorate International Women's Day, LexLatin interviews three prominent female lawyers from Europe who share their work experiences. 
Fecha de publicación: 09/03/2021
Gender inequality remains in place. Associations in various countries still report a lag in women's access to managerial positions and equal salaries. For law firms, the situation is similar around the world. What is the role of firms in this situation? What commitments should they make?
Lise Lotte Hjerrild, partner at Horten Law Firm in Denmark, specialist in corporate law and member of the Women Lawyers' Interest Group of the International Bar (IBA); Maria-Pia Hope, CEO of Swedish firm Vinge, a bank and finance expert and named to the list of the 125 most influential women in her country's business, and Pascale Lagesse, a partner at French firm Bredin Prat, with a recognized career in labor law for which she is currently Co-Chair of the IBA Global Employment Institute, in conversation with LexLatin, expressed their views on professional development strategies on an equal footing for female lawyers.
Decision-making is the starting point. "Achieving greater equality requires genuine senior management commitment," says Maria-Pia Hope.
Lise Lotte Hjerrild adds that equality can only be made culture when there is a clear intention to do so from above. "It must be taught and integrated throughout the organization. The first change would have to affect the professional promotion criteria consciously," she says.
"The first step is for decision-makers within the firm to acknowledge the importance of gender equality. Once that is done and there is internal alignment, concrete steps can be taken to effect change. This could take the form of an initial audit on the firm's existing figures and policies followed by the creation and implementation of new policies designed to achieve greater equality," says Pascale Lagesse.
The texture of reality
Variables in gender issues in the countries interviewed are abysmal. For example, according to Maria-Pia, the tradition of equitably sharing home care roles is strong in Sweden; however, this has not eradicated the disparity in women's access to decision-making positions. 
Hope refers to a McKinsey study that states that women are less likely to think they are able to progress in their careers unless they feel they are eligible themselves. "They often believe that partnership requires more of them than men do. Also, there are fewer role models, so women may be less likely to believe that a senior career in law is a feasible prospect." 
According to Lotte, unconscious prejudice is a major problem that hinders progress. "Men, as well as women, have a tendency of picking those reminding you of yourself are mainly the reason. All the good intentions are there, however, at least in my country, law firms have in general not been willing to put their mouth where their money is." 
Lagesse attributes gender bias to the main barrier to balance, as this results in fewer opportunities for progress. For her, it is important that "women today are seeking more work-life balance, which they perhaps do not believe is attainable at the partner-level."
Unlike Denmark, where gender is prohibited from being used as a criterion in procurement, and Sweden, where there are anti-discrimination laws, but quota systems are prohibited, Pascale can set out at least a dozen measures that have been taken in France in the last 10 years to strike a balance between men and women. 
Among such measures we find: an equal pay act (2012) signed by the president of the Paris Bar Association; the presentation of a letter of good collaborative practices (2012) by the Paris Bar Association; immunity from dismissals (2013) of associates after two months of having taken maternity leave; the signing of a commitment to the Government (2015) to improve stereotype-free communication; the inclusion of equality and non-discrimination as essential principles in the rules of procedure of the National Council of Lawyers (2019); the establishment of paternity leave for four weeks by the same Paris Bar Association and the implementation of the Coppé-Zimmermann Act, to increase female representation in councils by creating a minimum quota of 40% of members of each sex, among others. 
Minimum policies
"The number one issue to be dealt with is to identify and address Bullying & Sexual Harassment. At International Bar Association (IBA), we have conducted a worldwide survey with appalling results, and afterward developed tools to handle and eliminate such behavior. Not until these issues have been dealt with, we can achieve gender equality," says Lotte Hjerrild.
For her, a change of culture must be created and women's empowerment achieved, by raising awareness among the leaders of law firms around the world. "I can only urge those firms which have not prioritize it to get going, otherwise they will end up falling behind," she advises.
About this, Lagesse comments that "it is therefore up to each firm to take the initiative to implement good practices. This can include proposing measures to enable female associates to better manage their family obligations, such as teleworking, part-time work or the provision of IT tools to facilitate mobility."
Hope believes it is important to keep a close eye on career progression statistics at each stage. "Gender equality requires societal change at a more general level. But I think it's always possible to start working towards greater equality irrespective of the society around you – and I suppose it starts with listening to what young employees really need to make the commitment."
The commitment of companies 
For a few years now international companies have been asking the firms to provide their statistics on women's inclusion and diversity recruitment policies. 
"Clients have an important role to play. I don't have statistics, but we do get questions such as "how large a share of the equity in your firm is held by women?". And one of our largest clients, a global outfit, has just asked us to provide very detailed statistics on our gender balance, including in the teams that serve them," Hope says.
Lagesse delves into the issue by adding that, when it comes to hiring law firms, many international corporations make diversity a priority. "Most of our international clients have diversity policies in place to incorporate outside lawyers."
Lotte explains that in Denmark you can hardly see the influence of global companies, so she urges every company to lay the foundations for contributing to the matter. She believes that demanding requirements based on gender policies is not enough. Diversity audits should be requested to observe reality, thus further formalizing the commitments of both firms and companies.